There are a large number of dog shampoos on the market, but how can we choose the best shampoo for our dog without fear of being wrong? 
With such a variety of dog shampoos on the market, we have doubts as to which is the most suitable for our 4-legged dog.
Sometimes we see specific shampoos for each breed on the shelves, but within the same breed the condition of the hair can vary. 
"It may be that the same breed lacks hydration or volume, has sensitive skin or that sometimes it is necessary to apply a repellent / anti parasitic. It can also be a puppy or have white fur that is yellowing, or black hair that is losing intensity. You may also just want a shampoo for an area that just got dirty and don't want to mess around with lather and water."
The dog shampoo must be specific for them and in addition to taking care of the hair, it must also take care of the skin with an optimal result of healthy, strong and shiny hair.
In this post we group all of this into just 8 shampoos that will take care of each type of hair / skin condition, taking into account the time we have.
1. Sensitive skin Shampoo
For sensitive skin it has to be a hypoallergenic shampoo suitable for dogs of any breed and age. It must be specially indicated for sensitive and delicate skin. With natural products to be able to bathe it in frequent washes if necessary. The shampoo you need is Relax shampoo. 
2. Repellent and anti-parasitic shampoo
That is indicated for all breeds of any age. With ingredients that repel and eliminate the adhesion of fleas and ticks among other external parasites. The shampoo you need is Bye Bye shampoo. 
3. 

Moisturising Shampoo

Does it lack hydration or is it long hair? In this case, the shampoo must provide great hydration to the hair to maintain beautiful long hair or recover dehydrated or brittle hair of any length from the cuticle to the ends, providing greater elasticity. The shampoo you need is Hidratante shampoo. 
4. Vitalizing Shampoo
Do you need to give volume to your hair? Is he short-haired or wire-haired? Curly or wavy? With a lot of undercoat?
The most suitable shampoo is the Vitalizante shampoo since it provides volume to dogs of the Poodle, Bichon Frisé, etc. 
In short-haired dogs it will help to detach the shedding hair during the bath. Indicated for the hard hair of Schnauzers, Terriers, Griffons and similar; Curly like Poodle, Bichon Frize, etc.; Wavy like for example the Kerry Blue Terrier; and with a lot of undercoat such as Bob Tail, Soft Coat Watern Terrier, Coton e Tulear. 
5.Black or white hair enhancers
The shampoo you need is Blanc, which despite its name is suitable for white hair as well as black hair.
This shampoo corrects yellowish tones, leaving a nuclear white colour and in black, grey and blue colours, it intensifies the tone, giving hair more shine.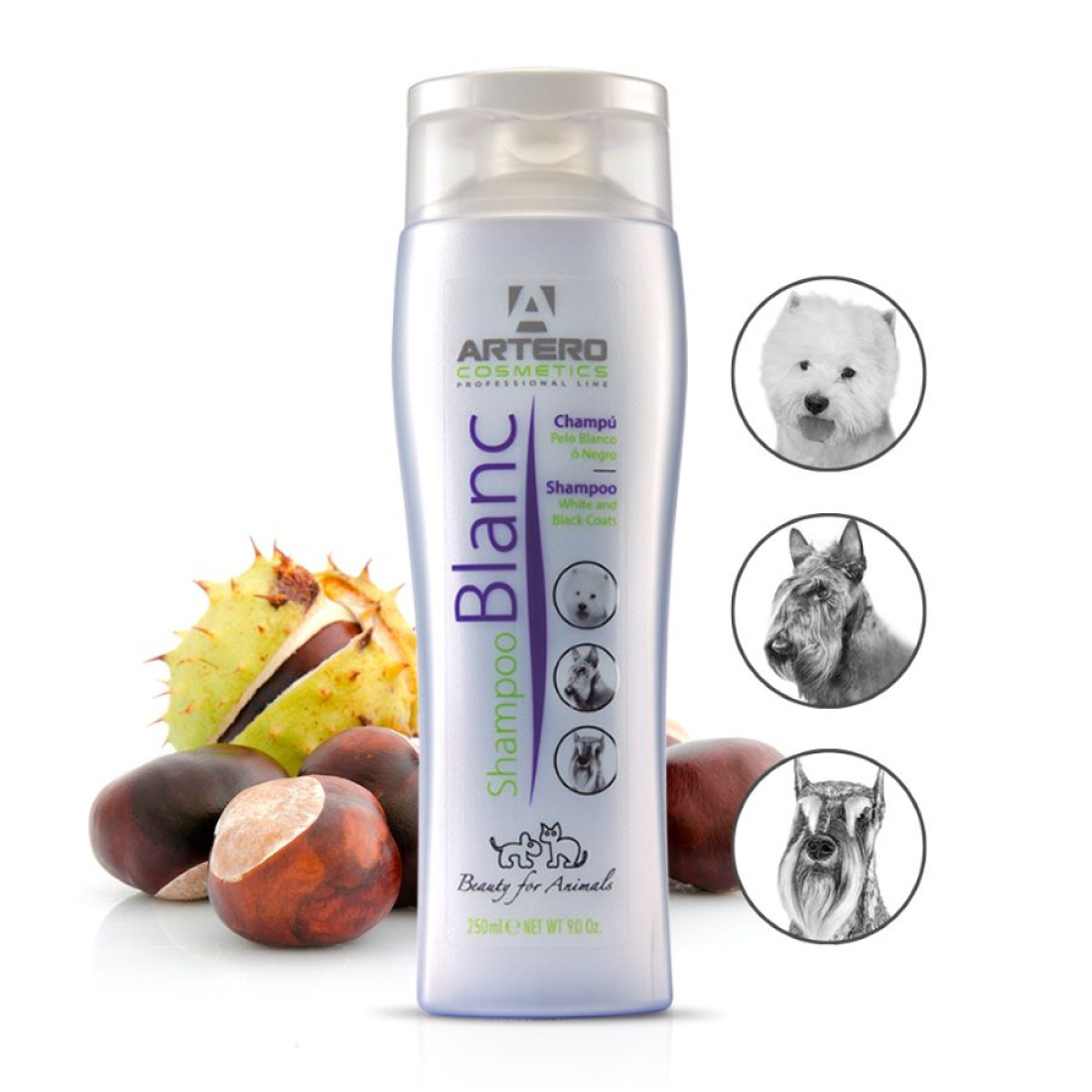 6.

Antitoxins and antipollution Shampoo
Do you live in the city? It has been proven that hair in the city gets dirty and matted faster than in other environments.
There are shampoos for city dogs with the addition of eliminating the effect of pollution for a longer time.
This type of Detox shampoo repairs the dog's hair and creates an invisible film on the entire coat that repels pollution, leaving the hair clean for longer.
It works avoiding the adhesion of particles that are in the environment and at the same time it provides hydration.
The main and essential ingredient for this pollution-repelling action is Activated Carbon, which eliminates toxins, impurities, traces of grease and dirt in depth.
7. 

Special Shampoo for puppies
Do you have a newcomer? Is he still a puppy?
There are shampoos for these first months; that is, specific shampoos for puppies. They are very respectful of the skin, mucous membranes and hair, soft, nutritious, moisturizing that favor brushing. They reduce the possibility of irritation when accidentally coming into contact with the eyes, mouth, and nose.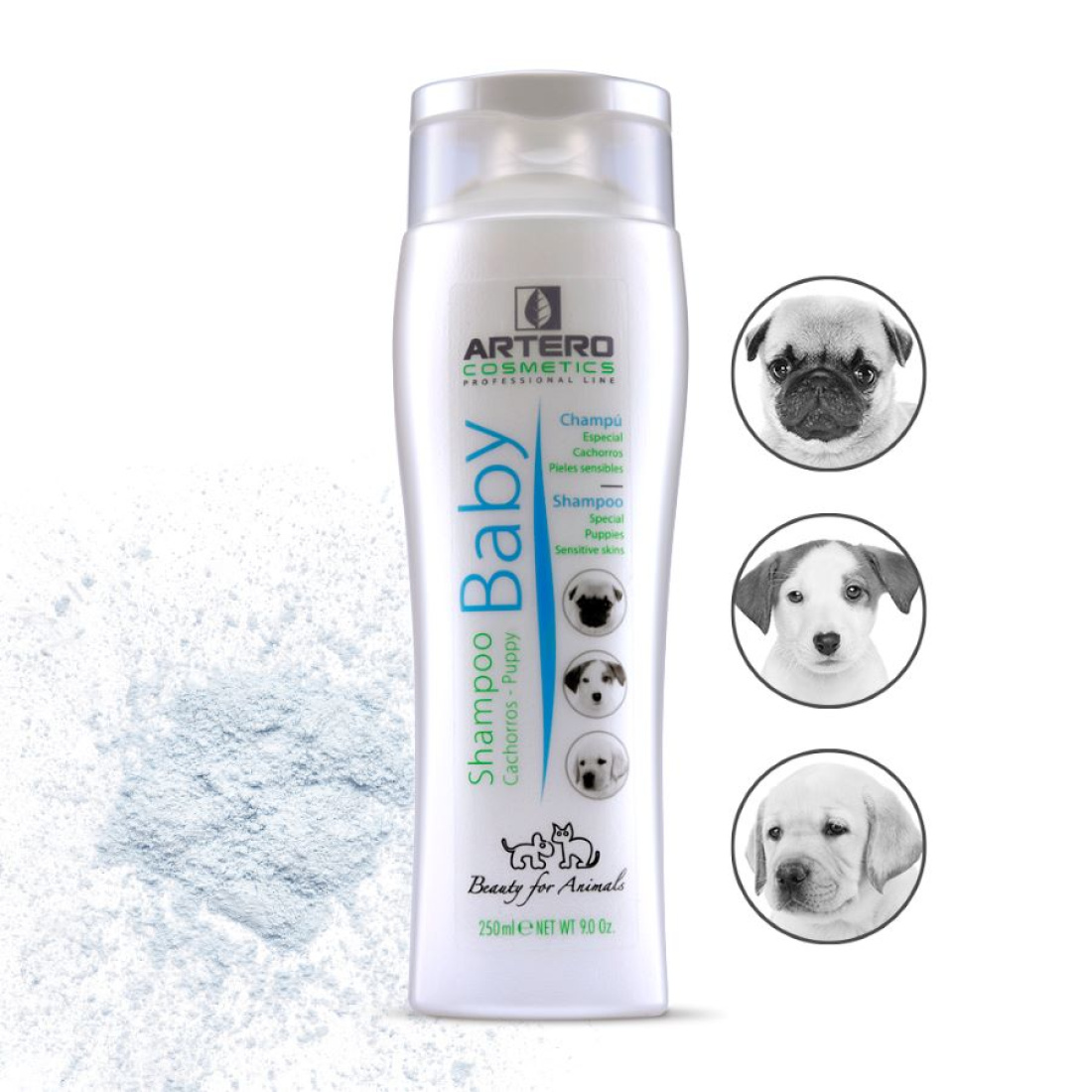 8. Dry Shampoo
Don't have time and your dog has gotten dirty? Is it a rainy day or a beach day?
Let your pet enjoy and then do not be overwhelmed because it has gotten dirty, you have a shampoo that saves your life and whatever hair it has, its age; It is the washing shampoo without the need for water or rinsing.
It is a shampoo that comes in a spray and very easy to apply!! The spray product is applied at a distance of approximately 50 cm, then brush the fur vigorously. The product absorbs the dirt that remains in dust and is removed by brushing. 
Trick!! "Artero's Speed ​​dry cleaning shampoo can also be used as a volumizer."